Technology/Retail/Services & Others
LARGE THIRD PARTY MARKETING ORGANIZATION
Project Synopsis
Single version of truth for subscriber and prospect data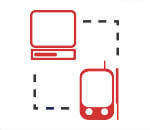 The marketing organization provides marketing database management services to several hundred large organizations processing 10 to 100 million customer and prospect data records for each customer. During the few years organization has observed a steady increase in the number of complaints from their customers about the quality of marketing database. Their customers have reported significant cost increase in the marketing communication processes due to duplication, incomplete and incorrect subscriber/prospect contact information. Senior management at the marketing organization made it a priority to ensure that the subscriber and prospect databases for each client only contains a single, correct and complete version of the subscriber and prospect record.
Solution
Denologix was asked to assess the viability of the project and help prepare a business case in January 2012. After the project viability assessment and securing funding for the project, the marketing organization asked Denologix to help implement a solution to create a single version of the truth for subscriber and prospect data.
The steps undertaken to implement this project successfully are as follows:
Establish an information governance committee consisting of the senior management from the marketing organization and Denologix engagement manager
Assisted with defining the information governance framework to determine the attributes and associated business rules
Special steps were taken to ensure that subscriber and prospect data for each customer is kept separate from other customers' subscriber and prospect databases. The data for a specific customer must only be accessible to the marketing organization resources that are currently assigned to that customer
Installed and configure dxHUB within the marketing organization IT environment
Configured operational source systems that supply the data to be cleansed
Configured web service to receive operational data from the customers and send the processed data back after the clean-up
Configured business rules to clean, standardize, enrich and match subscriber and prospect data
Define metadata for all data attributes within the master data repository
Scheduled daily execution of the dxHUB job to create the master data repository for the subscribers and prospects for each customer
Executed scripts to validate that the subscriber and prospect data has been cleansed and it only contains a single version of the truth
The customers of the marketing organization reported a reduction in the communication cost between 7% and 56%
Technology
dxHUB
SQLServer database connector
Oracle database connector
DB2 database connectors
Informix database connector
SAP data connector
Salesforce data connector
Web service connectors
Fixed and delimited file based connectors
Back
BI Platform Implementation and Data Migration

I have worked with Denologix for over a decade now... This vendor is amazing. I'm happy I chose Denologix and would do it again.

DIRECTOR, MANULIFE

Forecasting Server Implementation

I would like to emphasize that Denologix provided excellent services to us while respecting our numerous constraints. They were very professional and meticulous. It was a pleasure to work with them.

MGR SAS SUPPORT, STATISTICS CANADA

Data Analytics Regulatory Project

Their ability to understand customer needs is quite special. Denologix was very good at listening to us and coming up with solutions, which they were able to sell to our own internal clients easily. They know how to maintain the highest standard of professionalism and accountability.

Director, CIBC

SAS Implementation and Migration

Their team is very honest. Their leaders are very transparent and open. Partnership like this, you don't find anywhere. I met very few vendors that I could say that I trusted. This vendor is amazing. I am happy I chose Denologix and would do it again.

Sr. Manager, Aviva

Regulatory Data Analytics Project

Terrific. Denologix has a fantastic reputation with our business in terms of being flexible. They are very rapid in acquiring new capabilities. They have established strong customer relationships and relationships with internal SAS departments. I have nothing but good things to say about them.

Vice President, SAS

Merchandizing Intelligence and Optimization

Denologix was reliable, collaborative, efficient and communicative throughout the Adidas project. Prognos would definitely work with the Denologix team again if we have technical gaps that require senior SAS resources.

MANAGING CONSULTANT, PROGNOS INC.
Read More