Denologix – KPI Analysis Dashboard (dxINSIGHT™)
Real-time Key Performance Indicators, anywhere, anytime!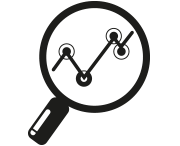 Knowing the numbers is critical, knowing them in real time is essential. Quickly accessing Key Performance Indicators (KPIs) is imperative for executives and operational groups alike. Having real-time metrics to understand trends, campaign results, new business, etc., can make the difference in strategic, timely decisions to ensure improvements.
With dxINSIGHT™ from Denologix, your KPIs for all areas of your company are available in real time securely through our web interface, and available anywhere, anytime without the need for custom development. The dxINSIGHT™ Dashboard displays your operational information in a rich graphic format so information becomes business intelligence for your key decisions. dxINSIGHT™ gives you the ability to create personalized views and is very intuitive and simple to use, with an extremely low cost of ownership.
Why choose Denologix dxINSIGHT™?
Web based secure access from anywhere, anytime
Aggregate information from operational systems presented in a graphically rich environment
Extendible by business users; no need for custom development
Drag and drop charts and reports to create personalized views
Zero Learning Curve – intuitive and easy to learn
Low Total Cost of Ownership
Pre-built data marts, charts and reports for quick and cost-effective implementations
Built on top of out-of-the-box industry standard data marts
Pre-packaged and industry specific
Measure any KPI across any Department or Groups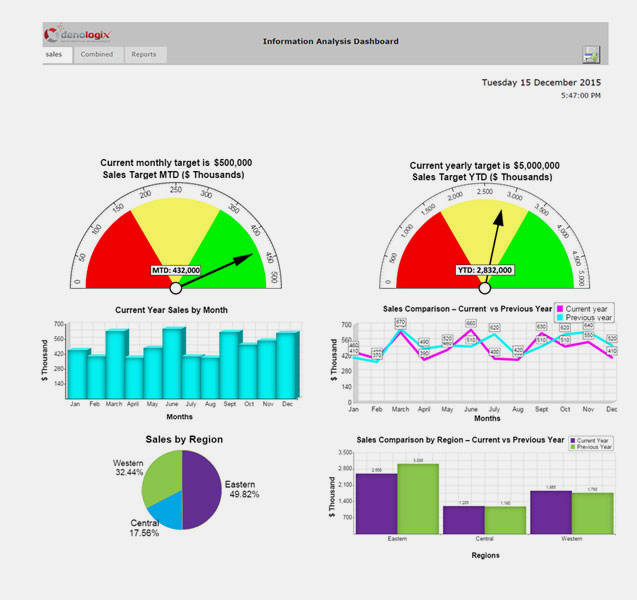 The traditional process of gathering information and publishing reports does not meet the dynamic pace of today's corporate environment. It is essential to transform operational data into aggregated business intelligence quickly and have it available in a simple digestible form to allow timely and effective decision making.
dxINSIGHT™ Dashboard provides real-time business intelligence views across all areas of the company. The dxINSIGHT™ Dashboard offers out-of-the-box data models with pre-built data marts, charts and reports for quick and cost-effective implementations and instant snapshots of designated key performance indicators (KPIs). It provides real-time trend graphs, ad hoc reports and direct drill-down capability appropriate for each role in your business.
For unique and specialized needs, Denologix Consulting Services will assist you with all phases of your business intelligence initiatives with dependable, cost effective and timely results.
dxINSIGHT™ – KPI Analysis Dashboard Features:
Only accessible by authorized users
Web based secure access from anywhere, anytime
Easy to understand charts and report
Choose from an extensive list of charts and reports
Different users can monitor same data in different formats base on their preference
Low cost entry point
Robust high volume processing capability
Short implementation cycle
Real time or near-real time business processing
dxINSIGHT™ – KPI Analysis Dashboard Benefits:
Complete awareness of most up-to-date critical business measures for your organization
Aggregate data from disparate systems into a single view
Monitor key metrics at-a-glance via easy to understand charts and reports
Timely decisions backed by most current and complete organizational performance data
Enable employees at every level of the organization to receive the information that is relevant for their role
Communicate common business patterns and relationships: trends, rank, part-to-whole, deviation, correlation
Graphical representation of the Key Performance Indicators
Choose one or all pre-packaged data marts for the financial, insurance, telecommunication, manufacturing and retail industries
Is dxINSIGHT™ Suited To My Organization?
Do Any of the Following Requirements Apply to My Organization?
Better understanding of my organizations KPIs?
Reduce the time it takes all stakeholders to agree on my organizational KPIs?
Reduce the time to create and maintain the KPI data mart?
Reduce the time to map operational data into KPI insight?
More robust and scalable architecture?
More secure architecture to ensure authorized access to KPI data?
More flexible ways to personalize the KPI monitoring screens?
Easy to use and understand Graphical User Interface?
Key staff available to do other work instead of manually creating reports to provide the KPIs?
Start realizing the benefits within 30 days?
More quickly access the health of my organization?
Back
BI Platform Implementation and Data Migration

I have worked with Denologix for over a decade now... This vendor is amazing. I'm happy I chose Denologix and would do it again.

DIRECTOR, MANULIFE

Forecasting Server Implementation

I would like to emphasize that Denologix provided excellent services to us while respecting our numerous constraints. They were very professional and meticulous. It was a pleasure to work with them.

MGR SAS SUPPORT, STATISTICS CANADA

Data Analytics Regulatory Project

Their ability to understand customer needs is quite special. Denologix was very good at listening to us and coming up with solutions, which they were able to sell to our own internal clients easily. They know how to maintain the highest standard of professionalism and accountability.

Director, CIBC

SAS Implementation and Migration

Their team is very honest. Their leaders are very transparent and open. Partnership like this, you don't find anywhere. I met very few vendors that I could say that I trusted. This vendor is amazing. I am happy I chose Denologix and would do it again.

Sr. Manager, Aviva

Regulatory Data Analytics Project

Terrific. Denologix has a fantastic reputation with our business in terms of being flexible. They are very rapid in acquiring new capabilities. They have established strong customer relationships and relationships with internal SAS departments. I have nothing but good things to say about them.

Vice President, SAS

Merchandizing Intelligence and Optimization

Denologix was reliable, collaborative, efficient and communicative throughout the Adidas project. Prognos would definitely work with the Denologix team again if we have technical gaps that require senior SAS resources.

MANAGING CONSULTANT, PROGNOS INC.
Read More