Denologix – Fully integrated 360º customer view (dxHARMONY™)
Real-Time Customer Intelligence At Your Fingertips!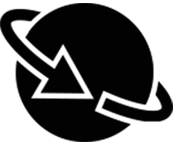 Denologix dxHARMONY™adds on to the features and benefits realized with dxCRYSTAL™ by retrofitting the operational systems, the suppliers of the in-accurate data, with the cleansed customer information from the customer hub.
dxHARMONY™ centralizes the customer information and avoids duplication of customer information across various operational systems. This reduces the cost of building new operational systems and maintenance of exiting operational systems.
dxHARMONY™ provides service oriented architecture (SOA) to rapidly connect operational systems with the customer information hub.
Our Denologix Customer information hub allows authorized operational systems to update the customer data based on their reliability of data correctness. The customer information hub can also be updated directly by the customer information management screens provided by dxHARMONY™. Once updated, the centralized customer information is available to all operational systems instantly.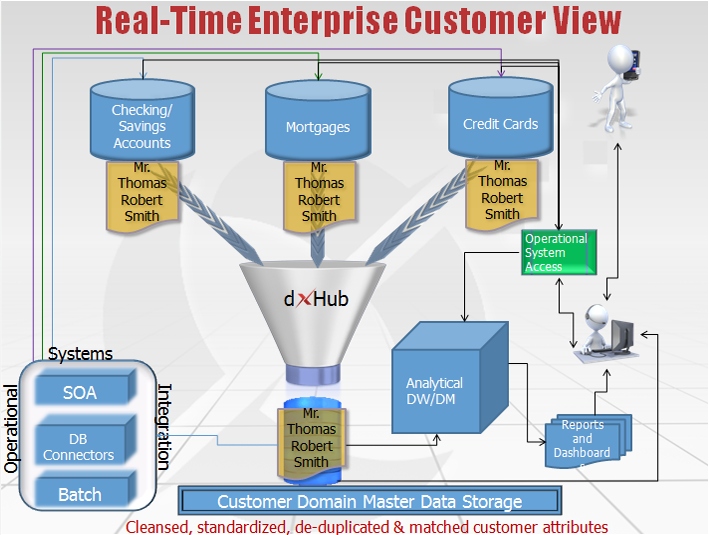 dxHARMONY™ Functionality / Features:
Pre-built business solution; not just a development tool
De-duplicate and remove inaccurate data
Adapters for integration with operational, analytical and legacy systems
Robust high volume parallel processing to eliminate performance bottlenecks
Operational systems can search and synchronize the customer information hub in real-time or batch mode
Service oriented architecture (SOA) for rapid and standardized connectivity between the customer information hub and the operational systems
Identifying partial match
Rule based customer record matching
Associates customer information, leaving data ownership intact where required
Standard customer information data model for the customer hub
Cross reference table for quick lookups between multiple source systems
Screens for updating customer information hub
Standard reports for customer data verification and analysis
Manual merge and un-merge
dxHARMONY™ Deliverables/Benefits:
Single source of trusted customer data accessible by operational systems
Any corrections to the customer information made only once instead of each operational system keeping track of the corrections
Fixed price solution – SUCCESS GUARANTEED!
Delivers immediate and incremental value – dxHARMONY™ can be implemented in phases to solve specific problems without the need for huge up-front infrastructure investment
Rapid Deployment – dxHARMONY™ comes with pre-defined rules, data models and connectors to avoid custom development. This saves valuable time and resources
A unified view of customer across sales and distribution channels
Consistent customer experience
Customer retention and satisfaction
Integrated operational analysis
Compliance with customer-centric regulatory needs
Scalability: Add new data sources without changing any code
Competitive pricing – Since we have eliminated the need for custom development, we can keep the cost of ownership significantly low
Back
BI Platform Implementation and Data Migration

I have worked with Denologix for over a decade now... This vendor is amazing. I'm happy I chose Denologix and would do it again.

DIRECTOR, MANULIFE

Forecasting Server Implementation

I would like to emphasize that Denologix provided excellent services to us while respecting our numerous constraints. They were very professional and meticulous. It was a pleasure to work with them.

MGR SAS SUPPORT, STATISTICS CANADA

Data Analytics Regulatory Project

Their ability to understand customer needs is quite special. Denologix was very good at listening to us and coming up with solutions, which they were able to sell to our own internal clients easily. They know how to maintain the highest standard of professionalism and accountability.

Director, CIBC

SAS Implementation and Migration

Their team is very honest. Their leaders are very transparent and open. Partnership like this, you don't find anywhere. I met very few vendors that I could say that I trusted. This vendor is amazing. I am happy I chose Denologix and would do it again.

Sr. Manager, Aviva

Regulatory Data Analytics Project

Terrific. Denologix has a fantastic reputation with our business in terms of being flexible. They are very rapid in acquiring new capabilities. They have established strong customer relationships and relationships with internal SAS departments. I have nothing but good things to say about them.

Vice President, SAS

Merchandizing Intelligence and Optimization

Denologix was reliable, collaborative, efficient and communicative throughout the Adidas project. Prognos would definitely work with the Denologix team again if we have technical gaps that require senior SAS resources.

MANAGING CONSULTANT, PROGNOS INC.
Read More