Business Intelligence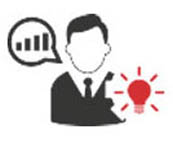 Denologix has significant experience providing organizations with a variety of Business Intelligence solutions. We have successfully helped organizations realize business strategies and improve organizational effectiveness through effective implementation of BI and Analytical solutions. We specialize in providing effective and efficient BI point solutions allowing organizations to quickly realize business benefits for:
Identifying New Business Development Opportunities
Improving Sales Effectiveness
Improving Customer Services Levels
Increasing cross-functional Communication Effectiveness
Denologix is well experienced in providing all aspects of Business Intelligence solutions to companies across a wide variety of industries (Banking, Financial Services, Insurance, Telco, and Health Care). At Denologix we not only provide expert technical expertise, we also provide the right training and mentoring to ensure organizations maximize their return on investment in the shortest time possible.
Our Expertise
Assessment and Planning of BI initiatives
Modernization of existing BI solutions
Consolidation of multiple BI environments
Dimensional data model design
Design and development of ETL jobs
Design and development of analytical reports
Design and development of dashboards
KPI metric development
Tools
SAS Intelligence Platform
Informatica
Datastage
Microstrategy
Oracle Business Intelligence
Microsoft Business Intelligence
Our Value
Experienced resources, resulting in quick and quality implementations
Fixed cost pricing provides budget confidence
Our Data Management expertise provides metrics you can trust
---
Back
BI Platform Implementation and Data Migration

I have worked with Denologix for over a decade now... This vendor is amazing. I'm happy I chose Denologix and would do it again.

DIRECTOR, MANULIFE

Forecasting Server Implementation

I would like to emphasize that Denologix provided excellent services to us while respecting our numerous constraints. They were very professional and meticulous. It was a pleasure to work with them.

MGR SAS SUPPORT, STATISTICS CANADA

Data Analytics Regulatory Project

Their ability to understand customer needs is quite special. Denologix was very good at listening to us and coming up with solutions, which they were able to sell to our own internal clients easily. They know how to maintain the highest standard of professionalism and accountability.

Director, CIBC

SAS Implementation and Migration

Their team is very honest. Their leaders are very transparent and open. Partnership like this, you don't find anywhere. I met very few vendors that I could say that I trusted. This vendor is amazing. I am happy I chose Denologix and would do it again.

Sr. Manager, Aviva

Regulatory Data Analytics Project

Terrific. Denologix has a fantastic reputation with our business in terms of being flexible. They are very rapid in acquiring new capabilities. They have established strong customer relationships and relationships with internal SAS departments. I have nothing but good things to say about them.

Vice President, SAS

Merchandizing Intelligence and Optimization

Denologix was reliable, collaborative, efficient and communicative throughout the Adidas project. Prognos would definitely work with the Denologix team again if we have technical gaps that require senior SAS resources.

MANAGING CONSULTANT, PROGNOS INC.
Read More