Finance/Insurance
LARGE GLOBAL INSURANCE COMPANY
Project Synopsis
Fraud Detection System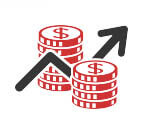 Analyse claims submitted by various healthcare providers and facilities on behalf of insurer to detect inaccurate submission or fraudulent activities. The claims database contained redundant occurrences of records for the providers, facilities and insurer in multiple formats. Due to the inconsistency of data formats within the claims database and across other source systems, it was not possible to apply most of the fraud detection related business rules.
Solution
Denologix was assigned to implement this project in February 2011. Denologix proposed to create repositories for providers, facilities and the insurer that will contain clean and non-redundant data based on operational data from all source systems including the claims database. The steps undertaken to implement this project successfully are as follows:
Worked with the client to establish an information governance committee consisting of senior management and Denologix program manager
Assisted the client with the implementation of the information governance framework to define the attributes and associated business rules
Installed and configure dxHUB within the client environment
Configured operational source systems that supply the data to be cleansed
Configured web service to retrieve third party data pertaining to the providers and the facilities
Configured business rules to clean, standardize, enrich and match insurer data
Define metadata for all data attributes within the master data repository
Configured data security rules to ensure access by authorized users only
Scheduled daily execution of the dxHUB job to create the master data repository for the providers, facilities and the insurers
Implemented fraud detection business rules and produced a dashboard and analytical reports to publish the overall claims statistics along with suspicious activities
During the first year after the implementation, the fraud investigation unit identified 17% of all submitted claims to be suspicious which warranted further investigation
Technology
dxHUB
Oracle RDBMS
Web service connectors
SAP connectors
SQLServer and DB2 database connectors
Fixed and delimited file based connectors
dxDASHBOARD
Back
BI Platform Implementation and Data Migration

I have worked with Denologix for over a decade now... This vendor is amazing. I'm happy I chose Denologix and would do it again.

DIRECTOR, MANULIFE

Forecasting Server Implementation

I would like to emphasize that Denologix provided excellent services to us while respecting our numerous constraints. They were very professional and meticulous. It was a pleasure to work with them.

MGR SAS SUPPORT, STATISTICS CANADA

Data Analytics Regulatory Project

Their ability to understand customer needs is quite special. Denologix was very good at listening to us and coming up with solutions, which they were able to sell to our own internal clients easily. They know how to maintain the highest standard of professionalism and accountability.

Director, CIBC

SAS Implementation and Migration

Their team is very honest. Their leaders are very transparent and open. Partnership like this, you don't find anywhere. I met very few vendors that I could say that I trusted. This vendor is amazing. I am happy I chose Denologix and would do it again.

Sr. Manager, Aviva

Regulatory Data Analytics Project

Terrific. Denologix has a fantastic reputation with our business in terms of being flexible. They are very rapid in acquiring new capabilities. They have established strong customer relationships and relationships with internal SAS departments. I have nothing but good things to say about them.

Vice President, SAS

Merchandizing Intelligence and Optimization

Denologix was reliable, collaborative, efficient and communicative throughout the Adidas project. Prognos would definitely work with the Denologix team again if we have technical gaps that require senior SAS resources.

MANAGING CONSULTANT, PROGNOS INC.
Read More